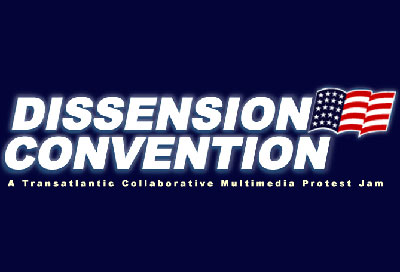 Dissention Convention.
2004
Networked performance and public projection
Coinciding with the Republican Convention in New York, more than 20 international net artists and digital artists broadcast a new collaborative art-polemic with a focus on how Bush and the US Republicans negatively influence every locality around the world.
All multimedia performances were created live, online on Furtherfield's VisitorsStudio. These were projected at Postmasters Gallery's RNC NODE, a way-station, which served as a physical node of an ad hoc public broadcasting, a system of online, real-time protest performances and alternative news actions. All online streams were also output in local bars and projections from windows.
Participating Artists Included: Maya Kalogera, Marc Garrett and Patrick Lichty, Moport.org & Glowlab, Chris Webb, Concrete Myrth & Sim, Lewis Lacook & Alan Sondheim, Sheila Murphy, Helen Varley Jamieson, Karla Ptacek, Vicki Smith & Bea Gibson, Joseph and Donna McElroy, Neil Jenkins & Roger Mills, Digitofagia vs. Autolabs, Michael Szpakowski & Ruth Catlow, Ryan Griffis & Mark Cooley