a proposal by V. Nagy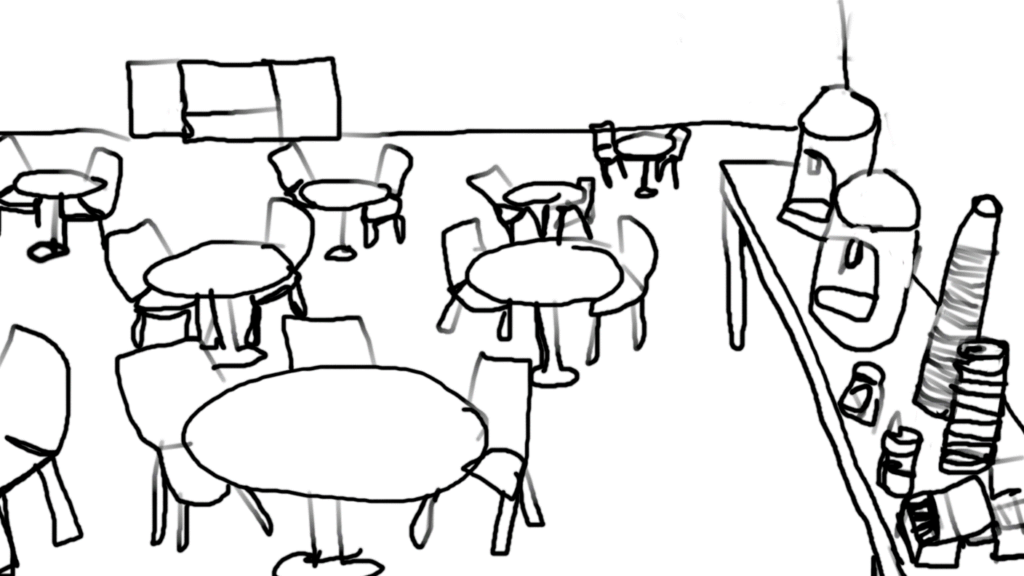 Theme: Sharing a Drink as an Opportunity to Build Community and a Mindfulness Practice
Issue: Community Degradation, Deteriorating Mental Health
Approach: Social Ecology, Human Ecology
Art Genre: Installation, Event, Social Practice
Strategy: Celebrate, Intervene
George Mason University is a large college, with students from all over the country, and from all over the world in attendance. With such a large student populous, and Mason's reputation as a commuter school, in spite of the large student body, it can be very easy to feel isolated and disconnected from one another. I propose (in a post-COVID world) that once each semester – during one of the last days of Spring Break in the Spring, and the Wednesday before Thanksgiving in the Fall, for example – a multi-national tea café be organized.
In the vein of Viviane Le Courtois' piece "Tea Time", one of the ballrooms at the Global Center will be set aside on these days for a few hours, to be transformed into a tea café. Why a tea cafe, you may ask? Because teas allow for more variety than coffee and teas are more regionally and culturally specific. Not everyone drinks tea, so this would keep the turn-out manageable, and would keep visitor turn-over moving at a quick rate. If this were an international potluck, visitors would be encouraged to stay longer for the food. A cup of tea allows for a respite, but a brief one (3-5 minutes to brew, 10-15 to drink). This way, even students with busy schedules can participate. Plus, the process of brewing a cup of tea encourages a pause in one's daily routine – it is not something that can be rushed and allows one to slow down and reflect. Meditative moments such as these are sorely needed in our modern society to help decrease stress.
In terms of supplies, the Global Center and Mason would only need to provide tables and seating for the café visitors, and a long table with hot water, sugar, honey, stirrers, and recyclable cups and lids. The key element of tea will be supplied by each of the café visitors. That's right, breaking the mold of the ordinary café or tea shop, each visitor will be required to bring a small box of a tea from their culture or home country, or their favorite tea, to participate. This ensures a wide variety of tea for visitors to choose from, an opportunity to discover new and unexpected favorites, and will result in only a meager number of leftover tea bags, as the number brought in is determined by the number of participants, not stockpiled for an estimated number of visitors. Each visitor will be allowed to brew one cup at the café and take two bags with them to brew later – no more than one bag from each box, to encourage exploration and distribute the tea in an even way.
In conclusion, visitors are invited to engage in a meditative moment, converse with students from all schools on campus, experience a taste of a different culture, and discover the diverse, broad community that existed on campus all along – we were simply too busy to engage with it fully.