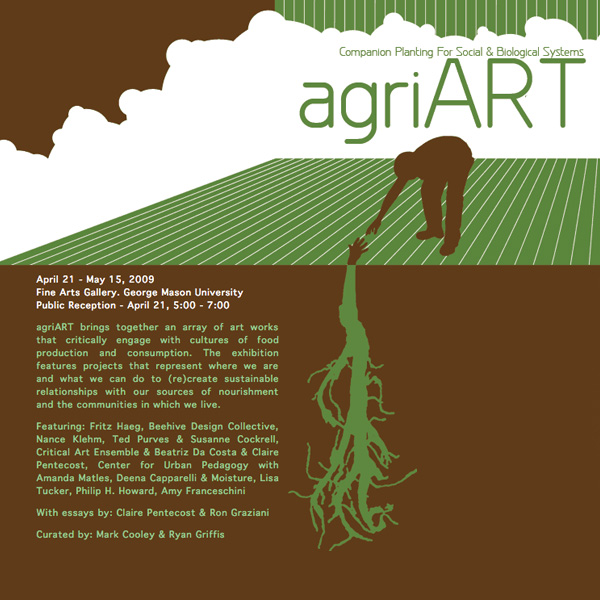 agriART: Companion Planting for Biological and Social Systems brings together an array of art works that critically engage with cultures of food production and consumption. The exhibition features projects that represent where we are and what we can do to (re)create sustainable relationships with our sources of nourishment and the communities in which we live.
Artists:
Fritz Haeg
Beehive Design Collective
Nance Klehm
Ted Purves & Susanne Cockrell
Critical Art Ensemble w/ Beatriz Da Costa & Claire Pentecost
Center for Urban Pedagogy w/ Amanda Matles Deena Capparelli & Moisture
Lisa Tucker
Philip H. Howard
Amy Franceschini
With essays by: Claire Pentecost & Ron Graziani
Curated by: Mark Cooley & Ryan Griffis
April 21 – May 15, 2009
Fine Arts Gallery. George Mason University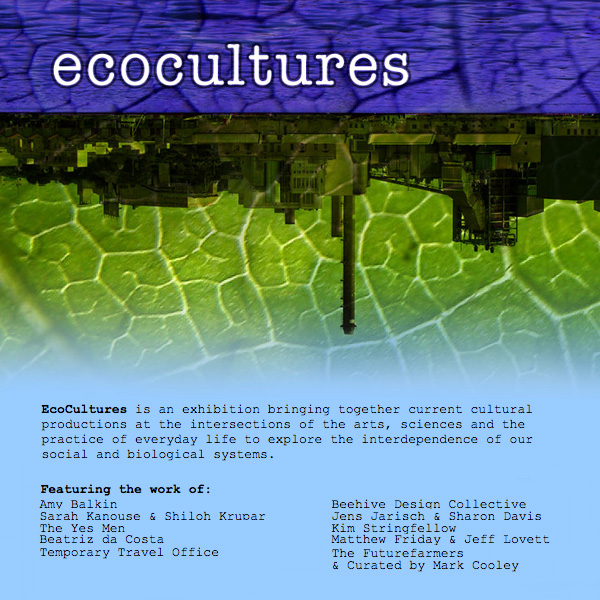 EcoCultures is an exhibition bringing together current cultural productions at the intersections of the arts, sciences and the practice of everyday life to explore the interdependence of our social and biological systems.
Artists:
Amy Balkin
Sarah Kanouse & Shiloh Krupar
The Yes Men
Beatriz da Costa
Temporary Travel Office
The Futurefarmers
Beehive Design Collective
Jens Jarisch & Sharon Davis
Kim Stringfellow
Matthew Friday & Jeff Lovett
Curated by Mark Cooley
September 22 – October 6, 2011
Mason Hall Atrium Gallery. George Mason University

Green Acres: Artists Farming Fields, Greenhouses and Abandoned. American University Museum. Curator: Sue Spaid.
In 2013, The Green Studio was included in the exhibition Green Acres: Artists Farming Fields, Greenhouses and Abandoned Lots Curated by Sue Spaid. The exhibition is a major retrospective of art that addresses farming as activism & art form.
Artists include:
Kim Abeles
Agnes Denes
Dan Devine
Field Faring
Futurefarmers
Anya Gallaccio
Avital Geva
Lonnie Graham
Harrison Studio
Mei Ling Hom
Homeadow Song
Patricia Johanson
Sakarin Krue-On
J. J. McCracken
Matthew Moore
N55
Permaganic Eco Garden
Mara Adamitz Scrupe
Bonnie Ora Sherk
Åsa Sonjasdotter
Susan Leibovitz Steinman
Tattfoo Tan
SoA Green Studio
Shannon Young, and more.