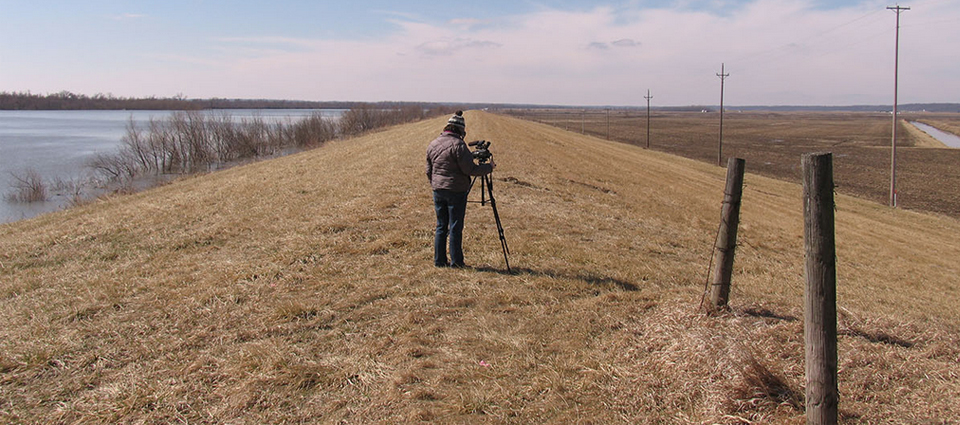 Between the Bottomlands & the World
A project by Ryan Griffis & Sarah Ross for Regional Relationships.
Inspired by the scholarship of Faranak Miraftab.
Featuring a soundtrack by Mark Cooley.
Visual and audio assistance by Casey Puccini and M. Anthony Reimer.
Actors: Karen Alderidge, John Gray, Saren Nofs-Snyder, Yunuen Pardo, Mateo Smith, Eddie Torres
Between the Bottomlands & the World explores Beardstown, IL, a rural Midwestern town of 6000 people--a place of global exchange and international mobility, inscribed by post-NAFTA (North American Free Trade Agreement) realities. It consists of a series of videos, photographs, exhibitions and narrative writing.
The video series tells a story of Beardstown in three acts.
Act One: Submerging Land, portrays a landscape massively engineered to redirect water for the production of commodity crops.
Act Two: Granular Space, is a meditation on the movement and scale of the international grain trade--from one seed to millions of bushels, moved from field, to elevator, to barge, to ocean going vessel.
Act Three: Moving Flesh, chronicles how and why so many people from around the world have come to Beardstown, a formerly all-white, Sundown town of 6000 people.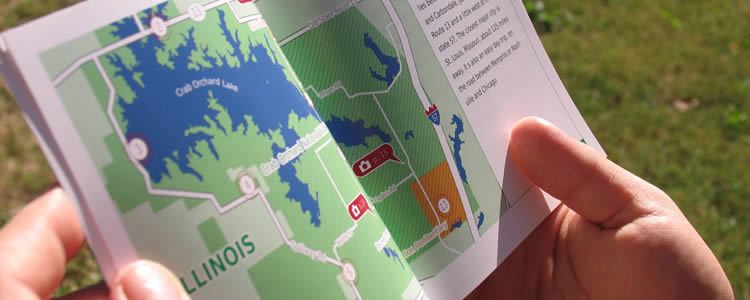 Stories in Reserve
A guide book featuring 3 artist-produced audio tours in North America presented with full-color maps and images. Soundscapes on "Siting Expositions:Vancouver" by Mark Cooley
The Tours :
Dentimundo : Ricardo Miranda Zúñiga
This walking tour of Tijuana finds one example of transnational commerce in a rather unexpected place–a dentist's chair.
America Ponds : Sarah Kanouse
An audio intervention into the conventional knowledge of a Superfund-classified National Wildlife Refuge–"a place where our most romantic feelings about nature collide with the reality of near-total human engineering."
Siting Expositions:Vancouver : Ryan Griffis, Lize Mogel & Sarah Ross, w/ Soundscapes by Mark Cooley
A walking tour of Vancouver's False Creek, the site of massive development following two global mega-events—Expo 86 and the 2010 Winter Olympic Games.
A Temporary Travel Office Project