Private Instruction: The Art of Guitar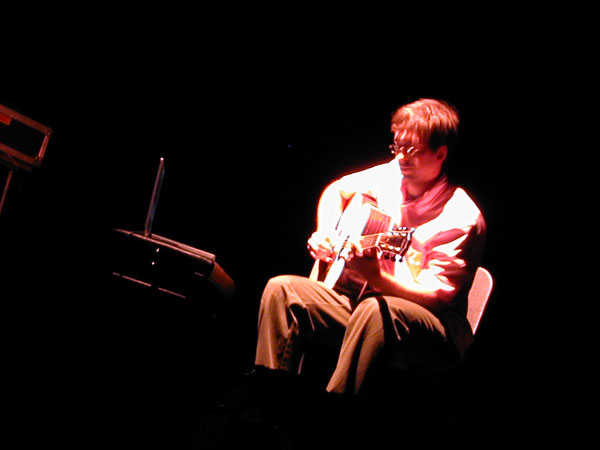 About the Instructor:
Mark has been playing guitar for 30 years in a variety of styles and approaches including blues, rock, jazz, classical, electroacoustic, and experimental. Mark has performed throughout the country including the NWEAMO Festival (San Diego), Sonic Circuits Festival (DC), SEAMUS (Salt Lake City), and Noise Awareness (DC). Mark has recorded under various record labels including Electroshock Records (Russia), Sonic Circuits (DC) and Lux Eterna Records (DC) and on his own label Flawdio Records.
Beginners to advanced
Adults and Children ages 10 and over
First lesson free
$45 per hour
Playing Styles and Approaches include:
Acoustic fingerstyle guitar – instrumental and accompaniment – acoustic blues, folk, roots, and rock
Acoustic flatpick guitar, self accompaniment and soloing – acoustic blues, folk, country, roots, and rock.
Electric guitar – rhythm and lead – blues, jazz, funk, rock, experimental
Lessons include:
Techniques and approaches in a variety of genre
Practical music theory
Learning songs by ear, tab and chord charts
Composition
Jamming & Improvisation
Philosophy: I don't believe in a cookie cutter approach to making music or teaching music. The advantage of private lessons is focused attention and individual instruction that responds to the interests and needs of the student. Many music teachers take all of their students through nearly identical instruction regardless of their individual interests, and they often follow instruction books full of exercises that quickly seem abstract, burdensome, boring and just plain unmusical for many students. In an effort to cover all of the fundamentals of music before actually playing any music, music teachers sometimes overburden their students with theory and technical exercises, that can quickly bleed the passion from students who never realized that practicing an instrument could be so painful. We've all heard that practice makes perfect, but I think the best way to practice is by NOT practicing, but by playing music. When asked about his incredible technique Jeff Beck once stated that he does not practice he just plays guitar. When we sit down with an instrument we should not be practicing to play music, we should be actually playing music. However bad it might sound at first, it will get better if you just keep playing music.
Young Adults and Adults: My approach consists of learning the interests and goals of my students and trying to help them meet those goals, while trying to introduce them to new approaches, sounds, and vocabulary along the way. Children often need help establishing their interests and building their desire and confidence to play music. Exposure is key, parents should make sure to expose their kids to good music in their everyday lives and take them to concerts whenever possible. If music is part of their everyday life, children will begin to form an intellectual and emotional connection with music that just might emerge as a desire to play music. And like with so many pursuits, desire is perhaps the biggest foundation for success.
A note to parents: If there is a heaven for abandoned good intentions it would be full of childhood musical instruments and adulthood exercise equipment. Many parents want their kids to play an instrument, push their kids to take lessons and then find themselves badgering them constantly to practice. Don't force your kids to take lessons if they're not interested. Do take advantage of one free lesson (many instructors offer them – including me) in an instrument of their choice and see what they think. If they like it, take some more lessons. If they don't like it then stop. Remember – you want music to be something they want to do, not something they have to do. There's a lot of things in their lives that they'll have to do whether they like it of not – like dividing fractions for instance. Music, like all the arts, should be fun, a creative release from the stresses of life, rather than something that contributes to them. OR perhaps (though it's unlikely you're still you're one of those parents who think the arts are a waste of time and think that your kid is wasting time diddling away precious time when they should be looking at their future and making something of themselves.
Please get in touch with us at – info@sporastudios.org for details and rates.
Please follow and like us:
---